Respectfully borrowing from the Manding, or Malinke tradition of West Africa, we perform and teach the traditional rhythms of this amazing body of music.  Hundreds of rhythms based in the village life of Guinea, Ivory Coast, and Mali have found their way intact to our country, through the teaching of master drummers Mamady Keita, Famoudou Konate, Soriba Fofana, and many others.  These rhythms are composed of at least 5, and often 7 or more drum parts that create a powerful blanket of music specifically for different events, members of the community, rites of passage, etc.  The universal themes contained in these rhythms are so meaningful and important, maybe now more than ever.  We keep these traditional meanings along with the rhythms, and find ways to apply their joy, their reminders, and their power to our lives and our own communities.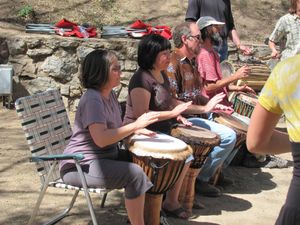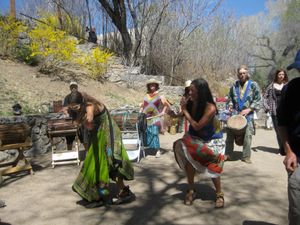 We find that drumming helps us balance out the rational, intellectual parts of us with the more intuitive, musical, and experiential elements of our humanness.  It also is great for coordination, mental agility, relaxation, and group bonding.  There also seems to be some ancient human connection to the experience of drumming that just seems so dang fun and enjoyable for people who do it.  
Come give it a try!  We currently offer a West African Drumming class for adults and teenagers, as well as a kids' class.  Also, down the road in Deming, we teach an all-women's class for people in their 60's and 70's.  They find that it helps with all kinds of physical health-related issues related to aging, and they have a great time with it!  We've also taught drumming for counseling in the area, as the therapeutic benefits of this type of drumming are now well-documented.  If you know someone who might be interested, send 'em our way.  We're having a blast in our fourth year teaching drumming in the area.